Words and Their Stories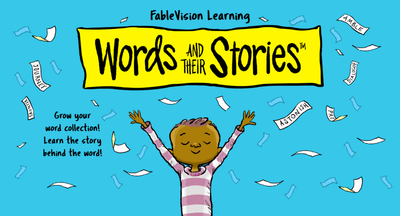 Description
Words And Their Stories (WATS) is an award-winning web-based vocabulary program that engages students in grades 5-12 with the stories behind words.
Words and Their Stories requires students to apply etymology and critical thinking skills (application, analysis, synthesis) in a sequential, inductive process to develop true understanding of word meaning.
Delivered through engaging multimedia, Words and Their Stories actually makes vocabulary study fun and effective while:
Building vocabulary and reading comprehension skills.
Fostering the development of critical thinking skills
Supporting the love of word acquisition.


Students experience

A compelling game, while exploring academic vocabulary.
A series of clues helping unravel each word's meaning
The ability to track personal progress and watch vocabulary skills improve.
Words And Their Stories includes over 1,000 vocabulary words.
Six levels of difficulty
Thousands of related words
Words and Their Stories
Free Shipping
Publisher: FableVision
Grade Level: K-8
Item #: FABWORDS
Classroom 25 students + 1 Teacher 12-months
#FABwords-25
Price: $194.00

SRP: $200.00
---
Features & Benefits
About the WATS™ System:
A game-like experience leads students through clues for each word. Rather than relying on rote memorization, students must apply etymology and critical thinking skills in a sequential, inductive process to unravel and understand each word's definition.
First: An illustrative story of the derivation of each word
Clue #1: Applying information contained in the derivation
Clue #2: Drawing upon prior knowledge
Clue #3: Inferring meaning from context
Clue #4: Completing an analogy
Clue #5: Analyzing context to complete a sentence
Following each Clue, students receive immediate feedback that explains the correct answer and purposefully prepares them for the next Clue. After the fifth Clue, they are provided with a precise dictionary-style definition and a Bonus Word(s).
Product Format
Words And Their Stories is web-based and mobile responsive. Students can log in to their accounts from any computer connected to the Internet. Subscriptions are annual.
Teachers can track students' progress from the Teacher Dashboard.
Track student's improvement from Pre-test to Post-test.
Drill down and find out how your student is doing in each type of word clue.
See scores for each level of the program.
See which words your student completed, and the points they earned for each.
Filter words by level of difficulty and/or theme, which makes lesson creation easy.
Add your own words to the program.
Create custom word lists to match curriculum you are studying.
Create printable quizzes from any list.
---
System Requirements
Online 12-Months Subcription
---
Reviews
---