WORLD BOOK
Free Shipping
Publisher: Software MacKiev
Grade Level: 3-12
Platform: Mac / Win
Item #: MKV003S2
School (2 users) Mac
#WB1300
Price: $39.95
School (2 users) Win
#WBW1300
Price: $39.95
Lab (6 users) Mac
#WB1301
Price: $90.00
lab (6 users) Win
#WBW1301
Price: $90.00
50 User License Win
#WBW1305
Price: $499.00
Description
The wonders of our world are captured in this new edition of WORLD BOOK. See how a killer tornado is formed. Witness the notorious Berlin Wall coming down. Watch cheetahs running seventy miles an hour. See how ancient Egyptians made mummies. The journey begins here.
The Just Looking area is where you'll find "the good stuff": Pictures of people and places that interest you - from Rock Stars to Explorers, Skyscrapers to Castles - all from the WORLD BOOK Media Collection.
You can experience true multimedia with coordinated sights and sounds from World Book's music and photo collections. Copenhagen provides an ideal backdrop for the Danish national anthem, as a farmer tending rice fields in Vietnam does for a Vietnamese folk dance.
Travel the World from your Armchair:
The next best thing to being half way across the world is to travel through the magic of Webcams. We have put together a collection of kid-safe Web cameras from around the world. From the tranquil beauty of mountain panoramas to the bustle of urban jungles, watch life on our planet unfold before your eyes.
Every single article from the 22-volume print edition of the WORLD BOOK Encyclopedia is included, plus eighty years of archived articles in WORLD BOOK's online resources.
---
Features & Benefits
WORLD BOOK includes:
Every article in the 22-volume World Book print edition
Thousands of editor-selected Web site links
Online Article Updates (free one-year subscription*)
A collection of editor-approved Webcams
World Book Dictionary
World Book Atlas with translucent 3D Globe
World Book Trivia Challenge
World Book Media Showcase
This Day In History Widget
Thousands of photos, illustrations, video clips, sound clips, poetry readings and speeches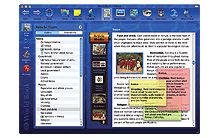 ---
System Requirements
Mac OS X Edition Minimum System Requirements:
Operating System: Mac OS X 10.5 or later, including macOS Sierra 10.12
Processor: G4-867 MHz or faster. Including any Intel-based Mac.
Memory: 512 MB RAM
Display: 1024 x 768, millions of colors
Hard Drive Space: 1.7 GB
Windows Edition Minimum System Requirements:
System - Microsoft Windows® XP SP2 or later, including Windows 10
Processor - 800 MHz or faster
Memory - 256 MB RAM
Display - 1024x768, 32 bit color depth
Free hard disk space - 1.6 GB
---
Reviews
---