SOURCE STUTTERING CLUTTERING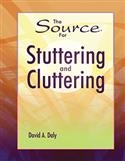 Description
Ages:13-Adult
Grades:8-Adult
This proven and uplifting therapy Source gives you a hierarchy of treatment from fluency enhancement strategies (voicing, breath control, smooth onsets) to cognitive strategies (mental imagery, affirmation, self-talk). The cluttering portion gives you over 30 characteristics of cluttering with nearly as many strategies for treatment.
The Source for Stuttering and Clutteringis based on three decades of working with over a thousand fluency-disordered individuals. The unique approach allows clients to reflect on feelings and attitudes related to communication while working on the steps to fluent speech. The book describes very specific, step-by-step procedures for teaching clients to integrate speech-motor skills with the cognitive strategies underlying fluency. The stuttering program has two phases:
Phase I - Orientation and Motor-Speech Practice Phase
Very discreet oral-motor response patterns are taught, one at a time. Clients read, re-read, and practice the material while concentrating.
Phase II - Cognitive and Self-Instructional Strategies
This section covers the attitudinal and cognitive strategies necessary for durable, lasting improvement. Not only must clients hear themselves getting better verbally, they must "see themselves" more fluent in the future through imagery. Easy-to-follow, guided relaxation; affirmation training; and self-talk strategies are included.
The last section of the book provides a comprehensive account of cluttering. Learn the obligatory symptoms of cluttering, how to assess it, and how to devise a successful treatment program.
Also included is online access to:
examples of voicing practice and relaxation practice
examples of common client errors
cluttering voice samples
checklist for possible cluttering
Customers tell us that procedures inThe Source for Stuttering and Clutteringyield better results than any other methods they have used before. Help your clients master these lessons and share in the joy of gaining control of their fluency and, ultimately, their lives.
To see more of this product's contents:
COMPLETE KIT INCLUDES:210-page book, checklists, evaluation tools, forms, goals, and therapy activities; online access to supplemental material.
©1996
SOURCE STUTTERING CLUTTERING
Publisher: Pro-Ed Inc
Grade Level: All
Item #: 31732

#31732
Price: $51.00

SRP: $51.00
---
Reviews
---