MUZZY Club for Homeschool - Online Subscription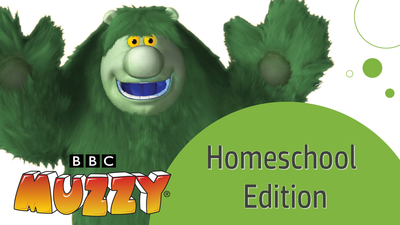 Description
MUZZY Club Online - Homeschool Edition
12 Month Subscription

LEARNING IS FUN AND EASY WITH MUZZY'S MOVIES, GAMES, AND SONGS
Developed by the BBC, MUZZY's simple and effective program works by teaching through fun and animated stories, songs, and games. These stories use a natural immersion method, mimicking the way children learned their first language.

FOR GRADES PRE-K TO GRADE 8 (or beyond)
MUZZY BBC is designed for children as young as two up to age 12 or older. Reading AND non-reading children can use, and learn from, MUZZY. MUZZY's entertaining and captivating video story is appealing - and effective - to children of all ages.

NO NEED TO SPEAK ANOTHER LANGUAGE IN ORDER TO TEACH IT
Simple and clear lesson plans, subtitles, and other supports are available in English to help parents effectively and easily teach their child a new language.

LEARN 1,200 PHRASES AND CONCEPTS
Your child will learn present and past tense verbs, adjectives, useful phrases such as greetings, telling time, counting and much more. Additionally, MUZZY has added new features to introduce reading and writing in a new language to your child.
---
MUZZY Club for Homeschool contains everything a parent needs to teach their child a 2nd language, whether you speak it or not.
MUZZY Club for Homeschool - Online Subscription
Free Shipping
Publisher: Muzzy Club
Grade Level: K-8
Platform: Online
Item #: MUZ002
MUZZY Homeschool (12M) SPANISH
#MUZ002S
Price: $79.00

SRP: $149.00

MUZZY Homeschool (12M) FRENCH
#MUZ002F
Price: $79.00

SRP: $149.00

MUZZY Homeschool (12M) ENGLISH
#MUZ002E
Price: $79.00

SRP: $149.00

MUZZY Homeschool (12M) GERMAN
#MUZ002G
Price: $79.00

SRP: $149.00

MUZZY Homeschool (12M) ITALIAN
#MUZ002I
Price: $79.00

SRP: $149.00

MUZZY Homeschool (12M) CHINESE
#MUZ002C
Price: $79.00

SRP: $149.00

MUZZY Homeschool (24M) French
#MUZ003F-24
Price: $199.00

SRP: $199.00
---
Features and Benefits
The MUZZY BBC curriculum was created following the guidelines of the British Council and supports the standards identified for language learning by the Common European Framework of References for Languages. Homeschooling families can either follow MUZZY's internal curriculum or build their own curriculum.

Lesson Plans
Step-by-step lesson plans packed with worksheets and a variety of activities such as skits, songs, games and projects to make learning fun.

Teacher Activity Masters & Student Activity Sheets
Reproducible masters provide homeschoolers with a range of engaging activities that complement the video material.

Assessment Masters & Student Assessment Sheets
Listening Comprehension Assessments help homeschooling parents build their child's listening comprehension skills. Reading Comprehension and Written Expression Assessment Masters with answer keys and Assessment Sheets provide a year-end summary assessment.

Additional Resources
Resources to help homeschoolers implement lessons are provided. These resources include reproducible image illustrations for use in lessons or cultural projects, props, flashcards, useful classroom expressions, holidays, and more.
---
COMPONENTS IN THE MUZZY CLUB LANGUAGE COURSE

Language Learning Movies
Children are captivated as they watch 3-D video stories of the adventures of MUZZY and his friends while scenes introduce, then reintroduce, language usage and vocabulary.


Vocabulary Builder Videos
28 lesson scenes reinforce the vocabulary that is introduced in the MUZZY Story. Each lesson is an animated vignette with its own simple story line that captivates children.

800+ Online Games
Interactive online games and exercises are aligned with the content in each lesson and are designed to reinforce the concepts introduced in the video.

24 Sing-a-long Songs
Nothing captures learners like MUZZY's 24 catchy sing-a-long songs. Whether listening to the good morning song with the lovable Norman or the colors song along with Princess Sylvia, kids can't help but sing along - and learn in the process!

Easy-to-Use Teacher Dashboard
The Teacher Dashboard allows homeschooling parents to search for keywords within the MUZZY curriculum. This provides flexibility, allowing homeschoolers to either follow the built-in curriculum in MUZZY or follow their own curriculum.

Flashcards
Good, old fashioned flashcards remain a fun and effective way to learn new words.

Online Language Recording Studio
MUZZY's recording studio allows children to hear themselves speak in a new language. Optional features allow players to practice spelling and word recognition.
---
Videos
---
Reviews
---