MUZZY Club Online - Library Edition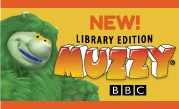 Description
MUZZY Club is designed for children of any age. Pre-readers, readers, grade school, secondary - even adults love learning a new language with MUZZY!
JOIN LIBRARIES FROM AROUND THE WORLD AND GIVE YOUR PATRONS THE GIFT OF BILINGUALISM
---
HOW DOES MUZZY WORK?
Games and activities in the online MUZZY Club reinforce the learning, making learning fun. The robust volume of words and phrases create a truly bilingual child.
HOW IS MUZZY DIFFERENT?
MUZZY's 3-D animated story captivates children and holds their attention.
Through an immersive approach, children learn in the same way they learned to speak their native language.
There are no rules in MUZZY! Just as there were no rules when a child began to acquire their mother tongue, MUZZY teaches in a natural, immersive way.
Repetition is the key to learning. MUZZY's story and astonishing 3-D animation appeal to children so they WANT to watch over and over, having fun and learning along the way.
MUZZY exposes children to 1200 words, offering one of the broadest vocabularies available today.
The nature of MUZZY allows children younger than two to begin learning. Online games in MUZZY Club are designed for both reading AND non-reading children.
WHY OFFER MUZZY IN YOUR LIBRARY?
MUZZY takes advantage of the "window of effortless learning," allowing your youngest patrons to start language learning when they are most receptive.
Including MUZZY in your collection provides a service to children who don't have access to the Internet at home.
These children should not be left out of the benefits of bilingualism.
Do you have other language learning products in your library? No problem! MUZZY will support the youngest users (remember the games for non-readers?) and easily co-exist with products aimed at older learners.
MUZZY Club Online - Library Edition
Free Shipping
Publisher: Muzzy Club
Grade Level: K-8
Platform: Online
Item #: MCLUB
Under 1,500 (minimum)
#MCLUB
Price: $150.00

SRP: $150.00

Under 10,000 patrons
#MCLUB
Price: $1,000.00

SRP: $1,000.00

10,001 - 99,999 patrons
#MCLUB
Price: $5,000.00

SRP: $5,000.00

100,000 + patronts each
#MCLUB
Price: $0.05

SRP: $0.05
---
Features and Benefits

MUZZY Library Edition DVD Packs are also available.
---
Videos
---
Reviews
---