MUZZY DVD, Curriculum Binders & 1 year online subscription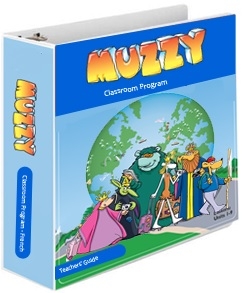 Description
Curriculum Binders
With 400+ pages of content to immerse beginning to early-intermediate level students in a second language, the MUZZY Classroom Edition binders offer flexible lessons along with teacher resources to integrate perfectly with your curriculum.



• Easy-to-follow Lesson Plans
• Review Exercises
• Viewing Activities
• Cultural Lessons & Enrichment
• Assessment Tools
• Project Illustrations
• Reproducible Activity Masters
• Teacher Resources
Binders available for these Languages:
Spanish*
English*
French
Mandarin Chinese
*Binders includes American English support.

---
MUZZY Classroom DVD Packs are also available.
MUZZY DVD, Curriculum Binders & 1 year online subscription
Free Shipping
Publisher: Muzzy Club
Grade Level: K-8
Platform: Binder
Item #: CLB
6 DVD Set & Curriculum Binder + 1 Year of Muzzy Online Subscription
DVD - Binder and 1 year online - Spanish
#CLBSP1B
Price: $329.00
DVD - Binder and 1 year online - English
#CLBEN1B
Price: $329.00
DVD - Binder and 1 year online - French
#CLBFR1B
Price: $329.00
DVD - Binder and 1 year online - Chinese
#CLBCH1B
Price: $329.00
---
Features and Benefits
---
Reviews
---