TechnoKids Primary Computer Curriculum Set
Publisher: TechnoKids
Grade Level: 1-3
Platform: Win
Item #: PRI-SET
Primary Computer Curriculum Set
#PRI-SET
Price: $139.00
Description
Primary Computer Curriculum Set
A collection of projects for beginners. Activities are ideal for Grades 1-3.
Ready-to-go lessons introduce computer skills to young children. Teach the basics with fun age appropriate activities.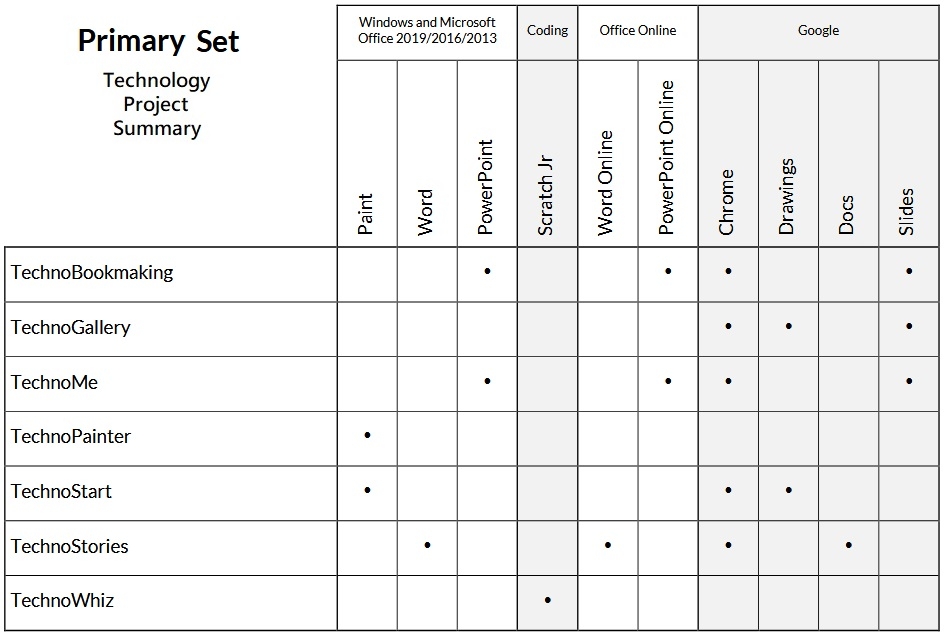 A COLLECTION OF READY-MADE LESSONS - The Primary Computer Curriculum Set includes 7 technology projects perfect for kids in grades 1-3 or ages 5-8. The set includes TechnoBookmaking, TechnoGallery, TechnoMe, TechnoPainter, TechnoStart, TechnoStories, and TechnoWhiz.

STRESS-FREE RESOURCES - Each technology project includes an easy to follow teacher guide for lesson planning, reproducible worksheets to support learning, and customizable resources.

JUMPSTART LEARNING - The set includes everything you need to integrate technology into curriculum. Celebrate learning by publishing stories, writing non-fiction books, producing slideshows, coding games, and more! If you need help TechnoKids provides free curriculum support by phone or email.

PICK THE VERSION THAT IS RIGHT FOR YOU - The set includes instructional materials for Google Docs, Office 2019/2016/2013, Office Online, and Scratch Jr.

UNCOMPLICATE TEACHING - Purchase price is a one-time fee, not a subscription. Curriculum set ships on a USB drive. Reproduce unlimited copies for teachers and students at your location. No restrictions on the number of devices within the classroom, school, or home school environment. Click More Details to learn more.
Technology Skill: Digital Citizenship, Graphics, Presentation, Programming, Word Processing
Version: Google, Office 2019, Office 2016, Office 2013, Office Online
Program: Paint, PowerPoint, Word, Docs, Drawings, Slides, Scratch Jr
---
Features & Benefits
Student-Centered Activities for Primary School, Childcare Center, or Daycare
TechnoBookmaking: Make, print, and share books. Create folding, flap, and accordion books.
TechnoGallery: Draw art in Google Drawings and hang pieces in a digital Google Slides gallery.
TechnoMe: Make an All About Me slide show using a Google Slides or PowerPoint template.
TechnoPainter: Craft original pieces of art using digital art tools.
TechnoStart: Earn a Computer Operator License. Computer fundamentals for beginners.
TechnoStories: Write, edit, and illustrate stories using templates in Google Docs or Word.
TechnoWhiz: Become a programming whiz kid. Build simple scripts and loops.
---
System Requirements
Version: Google, Office 2019, Office 2016, Office 2013, Office Online
Program: Paint, PowerPoint, Word, Docs, Drawings, Slides, Scratch Jr
---
Reviews
---