The Berenstain Bears Get in a Fight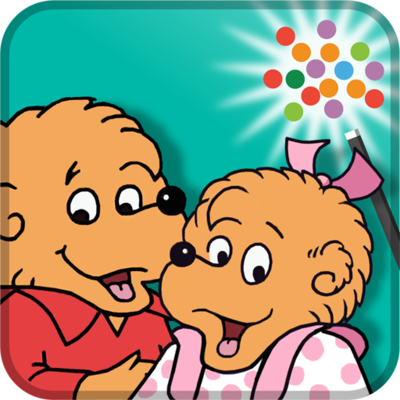 Description
Brother Bear and Sister Bear are usually the best of friends, but for some reason things get off to a bad start one morning and quickly go from bad to worse. They don't' speak to each other and when they do, it's not in the nicest ways. It gets so bad that the neighbors don't know which is worse, the big storm passing through Bear Country or the "racket coming from the bear's house." Do they even remember why they are fighting? Can anything make them stop? Useful for children of all ages, this story teaches lessons on avoiding arguments and disagreements.
An interactive animated storybook originally published in the award-winning Living Books series
A tale of how sibling arguments can sometimes escalate, and how they can be resolved
The Berenstain Bears Get In A Fight lets young readers play inside the story and interact with all the characters and words. This is an imaginative and interactive story experience, with fully animated content loved by children, parents and teachers alike.
The Berenstain Bears Get in a Fight
Free Shipping
Publisher: Wanderful
Grade Level: Early Readers
Platform: All
Item #: Wand-BearFight
1-computer download Windows
#Wand-Bearfight
Price: $14.99
---
Features and Benefits
The Wanderful Apps are fully animated interactive children's storybooks that are perfect for beginning readers and early learners. Each storybook is filled with pages that are fun and delight any child, while improving their reading skills.
Wanderful interactive storybooks, like the original Living Books, were designed with input from teachers to best address the learning styles of young and emerging readers. In addition to teachers, speech-language therapists and pathologists are finding these interactive storybooks to be valuable tools for addressing speech and language therapy goals and to help expand a child's communication skills.
• Virtually every word on each page comes to life when tapped
• Words are "active" for extended word play and language learning - tap on any word to hear it spoken
• Virtually every item on each page comes to life when touched or selected
• Hidden animated surprises on each page
• Two modes: "Read to Me" and the fully interactive "Let Me Play"
• Move between pages with swipe or with scrolling page navigation
• All storybooks are in English, most are also in Spanish, and four of them are also in French!
• Change language from any page in the story
• Multiple settings to customize the App for your child's reading experience
We've also worked with educators to develop Classroom Activities guides to bring the Wanderful interactive storybooks to life for your students. Each guide is filled with activities aligned with the new US Common Core State Standards to help teachers integrate these products into the curriculum. The Classroom Activities guide, available for most Wanderful interactive storybooks, includes multiple lessons tied to that story with printable support materials and an annotated bibliography of great children's books. This guide is part of each App's Premium upgrade.

Each Wanderful App includes a FREE Classroom Activities Overview, the purpose of which is to combine theory with practice, concept with technique, broad stroke with fine detail, inspiration with nitty gritty tricks. Our goal is to link the exciting technology of these interactive storybooks running on tablets, mobile phones, and computers with the reality of classrooms full of children and paper and books and bells.
Each App comes with a 40 to 70 page Activitiy Guide, that can be used in the Classroom or by anyone Home Schooling or with young children at home during this Coronavirus. Provided as an accompanying PDF file for each App, each contains activities related to the story that is done away from the screen. Printable activities enhance Math, Lanaguage and Dramatic Arts, and Science learning all aligned with the Common Core State Standards.
---
System Requirements
Windows 7/8/10 Computers -
After purchase you will receive an email containing a link to download the program and a license key for activation.
---
Reviews
---