Typing Pal Online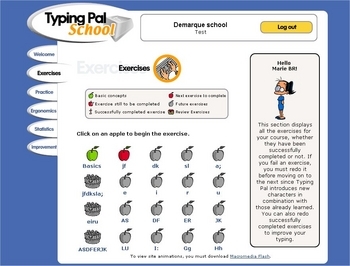 Description
Is this your first year? All first year orders must include the $30 set up fee.
Why are keyboarding skills a must for students?
They strengthen writing and language skills:
With keyboarding skills already under their belt, students need not get tripped up on the mechanical aspects of typing. Free to focus on creative content, they consistently produce higher-quality writing.
They improve productivity and save precious time:
By increasing speed and accuracy, a student buys themselves more time that they can then invest in other activities to gain a more in-depth academic experience.
They are key to a better use of technology:
Efficient use of laptops, desktops and other technology devices begins with the ability to type rapidly and well. Typing competence boosts a 21st-century student's morale, esteem and overall confidence in life.
Available in the form of an annual subscription, Typing Pal Online can be easily integrated into a portal. Typing Pal Online can be used in the context of a lesson supervised by a teacher, or independently as part of improvement or extracurricular activities.
Typing Pal Online
Free Shipping
Publisher: Druide
Grade Level: K-Adult
Platform: Annual Subscription
Item #: DEM1.00
First Year Set Up Fee - Required
#DEM001
Price: $30.00
School Enrollment 1-99 students New
#DEM001LC
Price: $250.00
School Enrollment 100-399 students New
#DEM001LC1
Price: $360.00
School Enrollment 400-699 new
#DEM001LC401
Price: $560.00
School Enrollment 700-999 new
#DEM001LC701
Price: $860.00
School Enrollment 1000-1499 New
#DEM001LC1001
Price: $1,200.00
School Enrollment 1500-2999 each
#DEMO01LC1500
Price: $0.80
School Enrollment 3000-4999 students each
#DEM001LC3K
Price: $0.72
School Enrollment 5,000-14,999
#DEM001LC5000
Price: $0.68
25 to 49 students /per student
#DEM006LC25
Price: $10.00
50 to 99 students /per student
#DEM006LC50
Price: $8.00
100 tp 499 students /per student
#DEM006LC100
Price: $6.00
500 to 999 students /per student
#DEM006LC500
Price: $4.00
1000 to 1999 students /per student
#DEM006LC1000
Price: $3.00
2000 to 4999 students /per student
#DEM006LC2000
Price: $2.40
5000 to 9999 students /per student
#DEM0LC500006
Price: $1.80
10000 to 14999 students /per student
#DEM0LC5K
Price: $1.20
---
Features and Benefits
Typing Pal Online is a tried and tested method for guaranteed success.
Students stay focused and motivated
• Wide range of stimulating exercises, fun animations and games with proven pedagogical value to ensure focus and motivation
• Rapid, frequent feedback to warrant success
• Pedagogical method designed to maximize student engagement
The program is available anytime, anywhere
• Free, unlimited access from home, from school
• Access from any computer connected to the Internet
• Adds great value to your web portal
• Handy management module to customize courses and monitor statistics
• A wealth of online and printable teaching materials with modifiable templates in the Teacher guide, User guide and Pedagogical approach guide
The method ensures success
• More than one million users worldwide
• Available in English, Spanish and French
• In North American schools and homes since 1990
It's web-based, so it's hassle free
• No CD installation required
• Free, automatic updates throughout subscription
• Free phone or email technical support
---
System Requirements
Typing Pal Online:
- No installation required
- Automatic updates
- Free access from home
- Can be installed directly into your school's portal.
---
Reviews
---