Words Rock Online
Free Shipping
Publisher: EdAlive Central
Grade Level: K-8
Platform: Annual Subscription
Item #: EDA00WRock
Enrollment 1 - 99 students
#EDAWROCK
Price: $409.00

SRP: $449.00

Enrollment 100 - 399 students
#EDAWROCK1
Price: $749.00

SRP: $799.00

Enrollment 400-699 students each
#EDAWROCK2
Price: $949.00

SRP: $999.00

Enrollment 700-999 students
#EDAWROCK3
Price: $1,109.00

SRP: $1,199.00

Enrollment 1000-1499
#EDAWROCK4
Price: $1,309.00

SRP: $1,399.00

Additional Seats over 1499
#EDAWROCKA
Price: $0.70

SRP: $0.75
Description
The comprehensive literacy program with automated Adaptive Learning that systematically builds word skills and explores the richness of the English language.
Ages 5 to 15 and beyond!
Interactive activities in vocabulary, spelling, grammar, punctuation, and preliteracy
A carefully crafted question progression that delves into the nitty-gritty of growing word-smart kids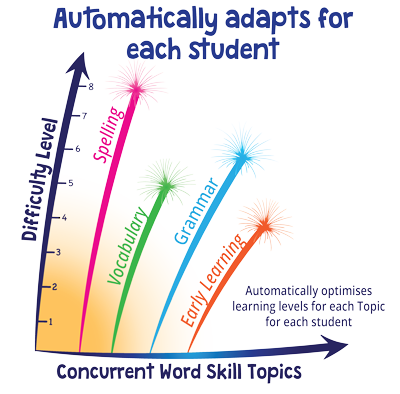 Words Rock Online draws students into using words in meaningful ways and helps them build vital strategies to confidently deal with the English Language.
Soaks students in language - enriching their vocabulary and giving them the understanding they need to produce clear, concise, correct and meaningful texts.
Progressively explores the building blocks, conventions and frameworks of English.
---
Features & Benefits
Students are motivated by collecting Agent Cards
At EdAlive we believe that learning should be fun and that students should be rewarded for academic achievement and effort.
In addition to all the fun of the multiplayer game and an innate sense of academic progress, the in-built Achievement system rewards pure effort.
Each Question answered correctly counts towards the collection of Agent Cards.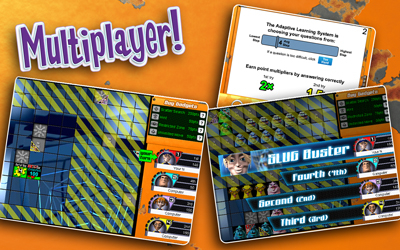 Fully interactive, real-time, multiplayer game with Adaptive Learning
You're a street-smart Seeker on the trail of the devious, slippery Super Slugs. But there's one small problem … they can make themselves invisible! Complete word skills Questions to search the streets with your cool Seeking gear. With a bit of luck (and a few cool gadgets up your sleeve) you'll outsmart the other Seekers, track down the most Slugs, and become the number one Slug Buster!
Each player's actions directly affect the game play of others.
Play against your friends or the inbuilt smart Computer Players.
Match Grandma's grammar against 6 year-old Vanessa's vocab and 15 year-old Sam's spelling with each automatically adjusted for their learning level.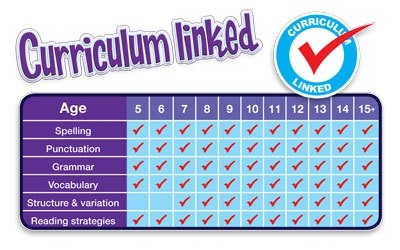 Direct one-to-one, activity-to-outcome links
All the Words Rock Questions are correlated one-to-one with the finest grained elements of each internalized curriculum. Such precision gives teachers and parents an unparalleled capacity to prescribe activities by creating bespoke Content Selections that mirror the structure of the curricula relevant to their situation. They can also generate reports using these same curricula.
One-to-one permanent links between all the Questions and the finest grained elements of your local curriculum.
Mirrors the precise structure and terminology of your local curriculum.
Select activities and generate reports using your local curriculum's structure and terminology.
---
Videos
---
System Requirements
All licenses are 12-month
---
Reviews
---