Typing Agent 5.0
Free Shipping
Publisher: Typing Agent
Grade Level: K-12
Platform: Annual Subscription
Item #: TYPAgent
10 to 49 Students Each Annual
#TYPA49
Price: $8.75

SRP: $8.77

50 to 99 Students Each Annual
#TYPA99
Price: $7.65

SRP: $7.67

100 to199 Students Each Annual
#TYPA199
Price: $6.32

SRP: $6.35

200 to 499 Students Each Annual
#TYPA499
Price: $5.05

SRP: $5.09

500 to 799 Students Each Annual
#TYPA999
Price: $3.74

SRP: $3.78

800 to 1999 Students Each Annual
#TYPA1999
Price: $2.50

SRP: $2.52

2000 to 9999 Students Each Annual
#TYPA2000
Price: $1.24

SRP: $1.26

10000 to 24999 students Each Annual
#typa10000
Price: $1.03

SRP: $1.05

Over 25K+ students Each Annual
#TYPA+
Price: $0.98

SRP: $1.00
Description
Typing Agent 5.0
is our biggest and most exciting update to date. Besides having a fresh new look, check out some of the exciting new features:

A Complete Digital Citizenship Curriculum set to ISTE Standards
Typing Agentís Digital Citizenship curriculum was designed with ISTE Standards in mind. ISTE Standards has the unique ability to support critical digital age learning skills and knowledge. The curriculum covers 9 sections of Digital Citizenship, has a complete teacher Scope and Sequence, with an exciting super hero themed video series, interactive student quiz covering each section, and typing activities for students to reinforce concepts. It's a game changer!

Learn to Type Code (Beginning and Advanced)
Keyboarding and learning to type Code go hand in hand. Just like keyboarding, typing code is an art of accuracy. Students learn the concepts of Java Script, HTML, Python and more while coding their own keyboarding game.
Fun Keyboarding Videos
Keyboarding videos flow through the keyboarding curriculum and teach students fun keyboarding trivia and important keyboarding tips, tricks, and skills.
More Gamification for Students to Incentivize their Learning
Work hard, play hard! After working hard on lessons students students earn Badges, GritCoins, and Experience Points to unlock levels and personalize their avatars and we've also updated their avatar experience!

Spanish Curriculum
Hola Amigos, vamos a divertirnos! Learning other languages is a valuable skill. Whether you would like toteach your students Spanish by having them type their lessons in Spanish or you would like to keep the English curriculum and would just like the typing instructions converted to Spanish, we got you covered either way.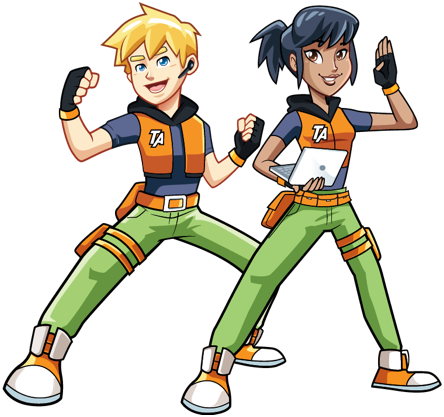 Type Your Own Adventure
Remember these from your childhood? Students join Ty and Keyana on their adventure to save the world from menacing characters trying to rid the world of keyboarding. Oh no! The best part is they get to determine the direction the story goes as they type.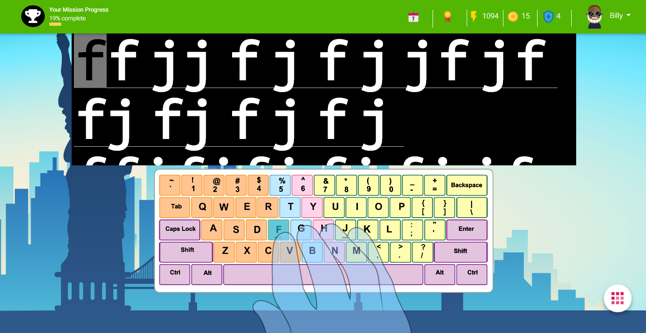 ADA Compliance Features
Typing Agent's WCAG 2.0 ADA compliant features will help students overcome participation restrictions in learning important keyboarding and technology skills. Including features for the sight and hearing impaired, plus closed captioning, dyslexic
font, and more.
---
Features & Benefits
Features & Benefits Tab:
FOR TEACHERS:
Meets & Exceeds ISTE NETS Standards
Three learning "worlds" to choose from: Adventure, Adventure Jr., and Agent
Individual and Class targets
Customization tools such as blocking games or lessons, making custom lessons, etc.
Teachers can send messages to students in our Message Center
Report Card Feature
In tutor "Social" App where teachers can post questions for students in "Agentbook" to respond to with creative writing and teach social responsibility in a safe and controlled environment
Ability to customize a grading scale for both WPM and Accuracy scores
Ability to view the last 5 student scores for each lesson or test
Create block of students and self-registration
Group students by class and grade level
Run typing reports to view progress
Login as students from the school login
Move students to other classes and grade levels
Reset students data for a new year
Teachers can have students enter their own names and passwords into the system
Choose RSS Feeds for Class Typing Assignments
So much more...
FOR STUDENTS:
Web based program can be accessed from home
Receive program updates automatically
Innovative app style navigation tools that students are familiar with
Totally cool "Secret Agent" or "Adventure" themed games including "Adventure Jr." suitable for grades K-12
Modern learning environment
Multi-Player games encourage students to practice typing with each other
Online access allows students to continue to learn from home
Totally new and customized curriculum
Animated hands and keyboard that demonstrates visually proper finger placement and keyboard technique
Learning Environment Automatically Adapts to Age of User
Problem Key Practice Game - practice the letters you missed!
Students can view their own grades
Students receive badges for accomplishing lesson units
Number Pad lessons

App "SOCIAL" including AGENTBOOK our in-tutor social network and message center where teachers

and students can communicate. Provides

a great opportunity to teach social media responsibility in a safe environment.

Exciting content keeps students engaged
New student app "Organization"
Fully iPad Compatible
---
Videos
---
System Requirements
Typing Agent is SaaS (Software as a Service)
Licensing terms are a one year contract per license, Licenses allows for the account to be deleted and the license reused throughout the one year term.
Teacher account allows for the creation of as many classes as needed for the number of student accounts purchased.
Teachers can customize the program to fit their needs if they choose (i.e. lessons, tests, grading, games, etc.)
---
Reviews
---